INTERCHAMPION C.I.E
INTERCHAMPION C.I.E
JUNIOR CHAMPION POLISH POLSKI
JUNIOR CHAMPION OF UKRAINE
POLISH CHAMPION
CHAMPION RUMUNII
CHAMPION OF ROMANIA
WINNER OF POLISH 2015
WINNER OF EUROPE2016
BASSHUBERT COMO UNA OLA- Penny
Miniature Dachshund Long-haired
born: 02.07.2014 r.
Breeder: Marta Larrinaga Suarez
IMPORT FROM SPAIN


When I saw Penny the first time I I was charmed, a lovely head and lovely, innocent eyes that soften everybody. When I watched growing Penny saw in her everything that I like the most  but when a small blacky came to us and got to know her character amazed me completely. It is full of fun and energy female that tries hard to please, she looks like she is always smiling and happy. Our little Penny came to us from Spain- from BASSHUBERT's Kennel- the owner is a great person, my friend Marta Larrinaga Suarez. With her confidence I gained a wonderful two females- Penny and Pingui that are wonderful companions in our lives and I hope to be perfect moms of their wonderful puppies  Penny has in her pedigree wonderful dogs, her grandfather Southwinds PAINTED WARRIOR- chocolate dapple from the United States- champion of America, as well as the Champion of Russia. Beautiful dog, who has numerous and titled offsprings in different countries. Another dog that stole my heart D'Applejack DELLA LUNA CAPRESE- interchampion C.I.B., champion of Denmark, Sweden and Norway, is also a champion of work, and his father, in turn, is my favorite Eriska'S THE PHANTOM ML, champion of Canada and Italy. It is a stud dog, who is a top dog and took great pride in Mr Francesco Lamarca kennel. Once again a big thank you to Marta for this wonderful female.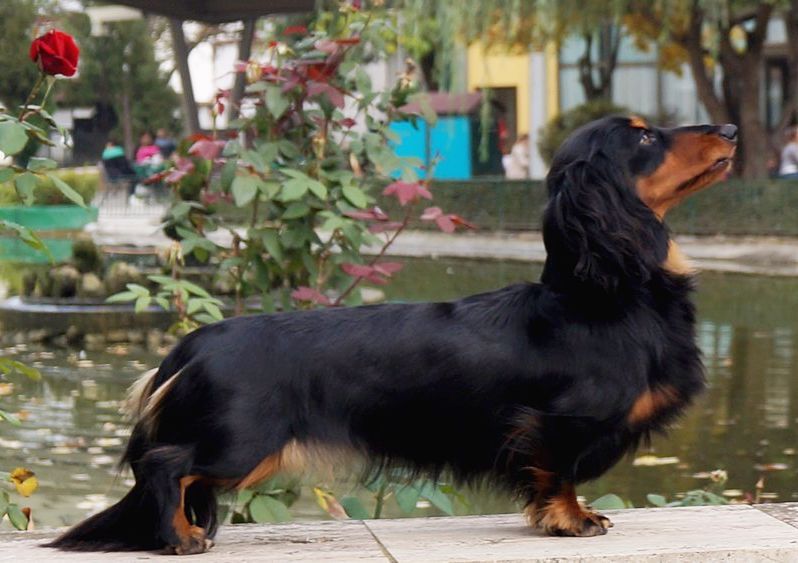 CH. KINCHVILLE MOJO

CH. SOUTHWINDS PAINTED WARRIOR

CH. DASHHN DOXIES PORTRAIT N BLACK

CH. SOUTHWINDS SILVER BELLE

J&J CH I-GRUSHKA BASTINDA

CH DAKS-VEG-AS-DORADO

CH. GRAN'S CHANTILLY LACE

CH. AMARITA'S JADORE MY BLACK SENORITA

CH D'APPLE JACK DELLA LUNA CAPRESE

CH. ERISKA'S THE PHANTOM

DAKS-VEG-AS PERESTROYKA FOR LUNA CA

AMARITA'S XCACT ISODORA BROWN

AMARITA'S MICRO XCACT

AMARITA'S ISOTTA DE LUX